THE BREEDING AND LIFECYCLE OF THE CANE TOAD
WHEN DO CANE TOADS BREED?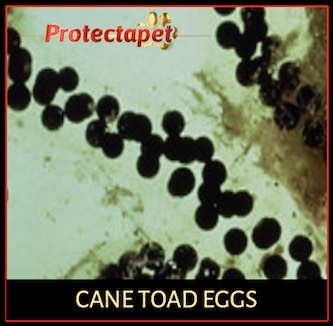 Breeding happens in still or slow moving water and is quite prolific with between 10 and 35 000 eggs being laid, once maybe twice a year if the conditions are optimal, with an approximate of one in 200 survival rate!
Cane Toad sexual maturity is reached between 1 & 2 years, with an average of 5 years of egg production. It has been known for a Cane Toad to survive for up to 15 years in captivity.
HOW DO CANE TOADS MATE?
When the female is ready to release what is called a "clutch" of eggs, she will head towards the males that will be near a water source. She will be able to detect and select her mate by the sound of his "calling". Fertilization of the eggs is external, the Male will assume the "amplexus " position, being that he will cling to the back of the female Cane Toad and use his forearms to hold tightly to her under her armpits. As her eggs are released into the water so is the sperm and this is where fertilization will happen.
CANE TOAD SPAWN AND EGGS
You can identify Cane Toad eggs as they look like long string of black beads in a clear plastic, sausage like skin, that are usually found clinging in a jelly like mass to vegetation in the water.
ARE CANE TOAD EGGS POISONOUS?
Yes, they are. A preventative measure - Ideally you can remove the eggs from the water and leave to dry out. Please use gloves to do this as Cane toads are poisonous during all stages of their lifecycle.
DO CANE TOAD EGGS TURN INTO TADPOLES?
They are black during the day and may change colour at night, often changing to a paler colour and even almost transparent. They are small in size and are often found moving slowly in shoals just below the water surface as their lungs do not develop as quickly as native tadpoles.
CANE TOADLETS
Once they have emerged from the water, the young toads will usually stay near the water´s edge for around one week before moving on independently. It is worth emphasizing again here that Cane Toads are highly poisonous during ALL stages of their lifecycle including post mortem,so always handle with care and with gloves.
Which leads us to …