PROTECTAPET PET OWNERS GUIDE FOR HALLOWEEN
Preparation for Halloween with Pets
If your pet has a nervous temperament particularly around sudden or loud noises, or gets over excited easily, involving them in the nights Halloween activities probably isn't the best idea. Here are some ideas for preparing for Halloween with your Pets.
Build a pet Den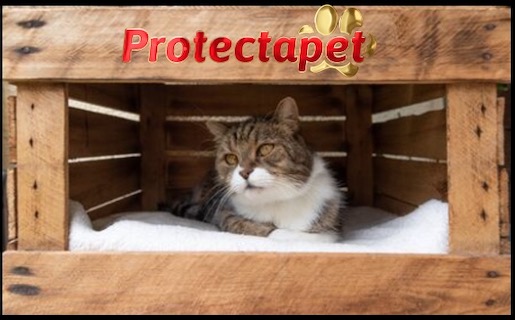 It would be advisable to protect your pet by providing a safe space for them to hang out at home, this is of course if you are hosting a party or expecting trick or treaters! Consider making a Den for your cat or dog, use a table for a dog and a card board box for a cat. Find a nice quiet and cosy place in your home, cover the table or cardboard box with a large blanket, place their bed inside with extra cushions and blankets, add their favourite toys and a water bowl for your dog.
Disconnect
It might be worth considering disconnecting the doorbell or popping a sign on your door asking visitors to knock. You could leave a bowl of treats in an elevated position at the front door for trick or treaters, so you and your pets don't need to be disturbed at all!
Beware of the Decorations!
If you decide to decorate your home with spooky decorations and accessories, please keep these decorations out of the reach of your pets. Dangly decorations and fake cobwebs will be irresistible to cats for example, so be careful that they are not tangled in light fittings. Things like little plastic bugs could be a choking hazard to dogs. Needless to say, you do not need your dog knocking over candle-lit pumpkins and candles that could cause a fire so it would be better to keep them situated in an elevated position.
Check your Pets Identification
Make sure that your pet´s microchip and collar with ID is up to date. This is just in case they get spooked (no pun intended!) and escape, or are accidently let out of your home with the traffic of visitors coming and going.
Watch out at walkies
On the day of Halloween it would be ideal to take your dog out before dark for a good long walk. At nighttime you won´t be able to easily see the sweetie litter on the streets from Trick or Treaters and so there is a risk that your dog might eat sweets, chocolate or wrappers. Chocolate is toxic to dogs because it contains "theobromine". Dogs cannot metabolise theobromine as quickly as humans and so the levels can build up. This can cause effects such as vomiting, diarrhea, restlessness, racing heart and in severe cases, seizures and heart failure. Xylitol is sometimes found in sugar free gum and sweets, this is a poison for dogs because even a small amount can reduce their blood sugar levels. Symptoms of Xylitol poisoning can be vomiting, weakness, staggering and in severe cases collapse, seizures, liver failure and death. Please be aware and contact your vet if you are concerned for your pet. As you are probably well aware, ingesting sweetie wrappers could cause choking, or a blockage in your pet´s gut.
From Dusk til Dawn with your Pets at home
As night falls bring your pets inside your home, close the windows and curtains to help keep sound out. Pop the tv or radio on to diffuse any scary noises that could be heard. If you have a cat, you could consider having a litter tray inside the house for the night.